April 2017

The Warden's Daughter by Jerry Spinelli
YA FIC SPINELLI
Cammie O'Reilly lives at the Hancock County Prison--not as a prisoner, she's the warden's daughter. She spends the mornings hanging out with shoplifters and reformed arsonists in the women's excercise yard, which gives Cammie a certain cache with her school friends. In this tale Cammie learns that heroes can come in surprising disguises, and that even if we don't always get what we want, sometimes we really do get what we need. Grades 6+


March 2017

George by Alex Gino
YA FIC GINO
BE WHO YOU ARE. When people look at George, they think they see a boy. But she knows she's not a boy. She knows she's a girl. Georgethinks she'll have to keep this a secret forever. Then her teacher announces that their class play is going to be Charlotte's Web. George really, really, REALLY wants to play Charlotte. But the teacher says she can't even try out for the part . . . because she's a boy. With the help of her best friend, Kelly, George comes up with a plan. Not just so she can be Charlotte — but so everyone can know who she is, once and for all.  Grades 6+


Febuary 2017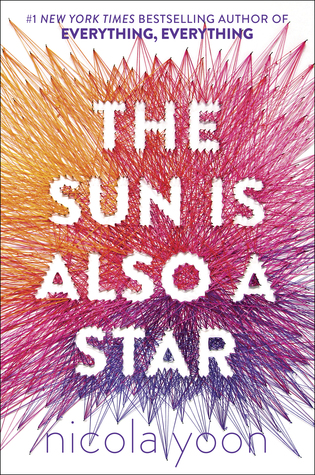 The Sun Is Also a Star by Nicola Yoon
FIC YOON
Natasha: I'm a girl who believes in science and facts. Not fate. Not destiny. Or dreams that will never come true. I'm definitely not the kind of girl who meets a cute boy on a crowded New York City street and falls in love with him. Not when my family is twelve hours away from being deported to Jamaica. Falling in love with him won't be my story.
Daniel: I've always been the good son, the good student, living up to my parents' high expectations. Never the poet. Or the dreamer. But when I see her, I forget about all that. Something about Natasha makes me think that fate has something much more extraordinary in store—for both of us.
The Universe: Every moment in our lives has brought us to this single moment. A million futures lie before us. Which one will come true? Grades 10+


January 2017

The Unlikely Hero of Room 13B by Teresa Toten
FIC TOTEN
When Adam meets Robyn at a support group for kids coping with obsessive-compulsive disorder, he is drawn to her almost before he can take a breath. He's determined to protect and defend her--to play Batman to her Robyn--whatever the cost. But when you're fourteen and the everyday problems of dealing with divorced parents and step-siblings are supplemented by the challenges of OCD, it's hard to imagine yourself falling in love. How can you have a "normal" relationship when your life is so fraught with problems? And that's not even to mention the small matter of those threatening letters Adam's mother has started to receive . . . Grades 8+


December
2016
Denton Little's Death Date by Lance Rubin
FIC RUBIN
Denton Little's Deathdate
 takes place in a world exactly like our own except that everyone knows the day on which they will die. For Denton, that's in just two days—the day of his senior prom. 
Despite his early deathdate, Denton has always wanted to live a normal life, but his final days are filled with dramatic firsts. First hangover. First sex. First love triangle—as the first sex seems to have happened not with his adoring girlfriend, but with his best friend's hostile sister. (Though he's not totally sure—see, first hangover.) His anxiety builds when he discovers a strange purple rash making its way up his body. Is 
this
 what will kill him? And then a strange man shows up at his funeral, claiming to have known Denton's long-deceased mother, and warning him to beware of suspicious government characters. . . . Suddenly Denton's life is filled with mysterious questions and precious little time to find the answers. Grades 9+
November 2016

Orbiting Jupiter by Gary D. Schmidt
YA FIC SCHMIDT
Jack, 12, tells the gripping story of Joseph, 14, who joins his family as a foster child. Damaged in prison, Joseph wants nothing more than to find his baby daughter, Jupiter, whom he has never seen. When Joseph has begun to believe he'll have a future, he is confronted by demons from his past that force a tragic sacrifice. High interest level but appropriate for most 6th graders.


October 2016

Elsewhere by Gabrielle Zevin
YA FIC ZEVIN
Welcome to Elsewhere.
 It is warm, with a breeze, and the beaches are marvelous. It's quiet and peaceful. You can't get sick or any older. Curious to see new paintings by Picasso? Swing by one of Elsewhere's museums. Need to talk to someone about your problems? Stop by Marilyn Monroe's psychiatric practice.
Elsewhere is where fifteen-year-old Liz Hall ends up, after she has died. It is a place so like Earth, yet completely different. Here Liz will age backward from the day of her death until she becomes a baby again and returns to Earth. But Liz wants to turn sixteen, not fourteen again. She wants to get her driver's license. She wants to graduate from high school and go to college. And now that she's dead, Liz is being forced to live a life she doesn't want with a grandmother she has only just met. And it is not going well. How can Liz let go of the only life she has ever known and embrace a new one? Is it possible that a life lived in reverse is no different from a life lived forward?
This moving, often funny book about grief, death, and loss will stay with the reader long after the last page is turned. Grades 7+.
September 2016 
Grade level recommendations are approximate. Please remember that each student is different. I would be happy to discuss any titles on a case by case basis.